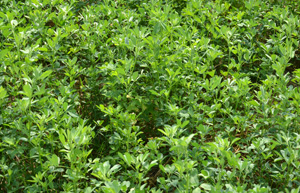 A dairy farm relying on alfalfa for high quality feed is composting to cut fertilizer costs and seeing dramatically increased alfalfa yields. This is good news for dairy farms feeling the pinch of high fertilizer and feed costs.
When Gary Smith and his son Jason Smith began composting seven years ago, it was to fulfill their farm's need for organic fertilizer. They partnered with a cattle feed lot which provided them with huge volumes of manure and spent bedding as raw materials for their compost. After purchasing an Aeromaster compost turner and completing a training session with Midwest Bio Systems, the Smiths were soon producing high quality compost which boosted the yields on their farm. Neighbors began to take notice.
Today they have a booming business making and selling compost to other farmers, organic and not. Jason Smith has already hauled compost as far as 60 miles for some customers, and the demand is such that he takes orders for compost up to four months in advance. Alfalfa growers are one group of customers who keep coming back for more.